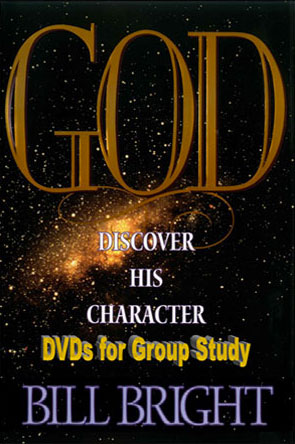 Most of us have misguided perceptions about what God is really like. And yet, how we view God and His involvement touches every facet of our lives – our family, our work, even our politics! In these teaching videos, Bill Bright shares the fruit of his personal, lifelong study of God and His character. These powerful truths are certain to energize your life and walk with God, just as they have his.
Originally released on video cassette, this small group study is now available on DVD! The 26 lessons make this ideal for small-group sessions in homes or as a Sunday school curriculum. "God: Discover His Character" DVDs for Group Study is a self-contained study that includes dramatic vignettes, teaching segments, and on-screen discussion questions to help you uncover the truth about who God really is and why it matters.
The companion "God: Discover His Character"Study Guide and Leader's Guide contain additional video outlines, Bible study questions, and life application exercises designed to help you gain the most from this material as you learn to apply these truths in practical ways. These study guides are currently available for download only.
See Also: